Don't have room in your facility for a boiler room?  Want a portable boiler room to move from facility to facility as needed?  No problem!  Call Carey Boiler Works LLC and inquire about our custom built, self contained portable boiler rooms.
Whether your application calls for a steam or hot water boiler, low pressure or high pressure boiler, gas fired, oil fired or electric boiler, a customized portable boiler room can be built to meet your needs.
Below are photos of a small rebuilt 20 HP portable boiler room that we built for a company in New York State: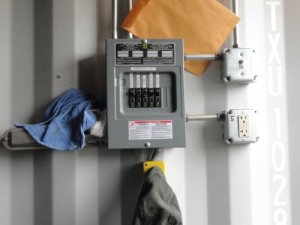 Depending on your needs these portable boiler rooms can be built in a seal and container for more permanent installation or in a semi-trailer if mobility is a priority.  Containers and semi-trailers are available in various sizes to accommodate the boiler and burner that fits your requirement.  Boiler, burner and all auxiliary equipment (boiler feed system, blowdown separator, chemical feed system, oil storage tank, etc.) comes pre-piped and pre-wired inside the container or semi-trailer with all connections run to the outside for easy hook-up at your facility.
For more information on our custom built, self contained, portable boiler rooms contact Carey Boiler Works LLC today at

1-800-727-7252

.